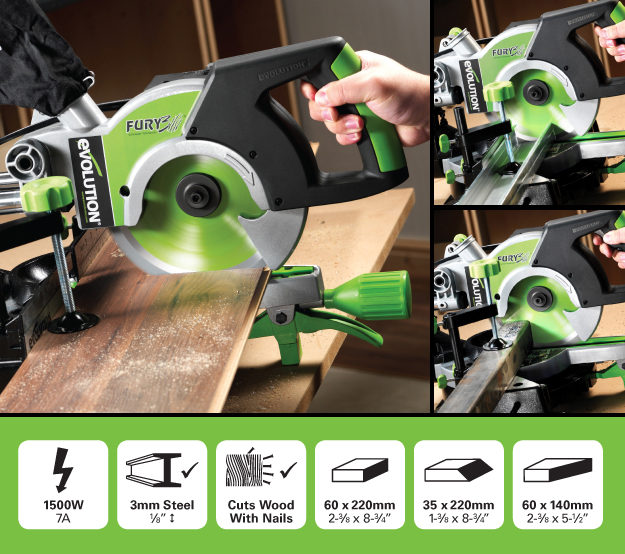 FURY3: 8-1/4"
TCT Multipurpose Sliding Miter Saw
Cuts Steel, Aluminum & Wood
With One Saw & One Blade!
Utilizing patented professional RAGE® technology; easily cuts Steel, Aluminum, Wood (even wood with nails) and Plastic, using just one blade! Features a hi-torque gearbox, which reduces motor stresses, improving performance and durability.
Advanced performance; out performs normal saws. When cutting Steel, it leaves an instantly workable finish, producing no heat, no burr and virtually no sparks.
Compound tilt and slide mechanism, for long angled cuts, offers a solution to almost all common applications. Features an ultra-secure top clamp, plus repeat stop extension which provides essential support for long work-pieces.
Laser guidance for optimum accuracy. Other features include a robust outer casing which enhances durability on even the most demanding metallic applications. Supplied with Multipurpose Blade, Top Clamp & Manual.
Don't forget: Evolution's 8-1/4" Diamond Blade which transforms this Miter Saw into a sliding tile cutter; ideal for roof tiles! Other accessories include the Evolution Miter Saw Stand, which is strong, compact and portable.
Why would you buy a saw that only cuts wood?
When you can buy a FURY3® Multipurpose Saw.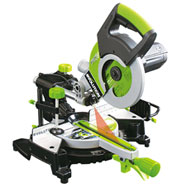 *Picture shown is for marketing purposes only. Do not cut more than one material at a time.