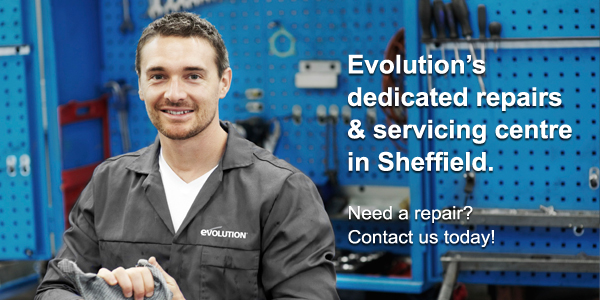 Evolution provides fast & easy collection and professional quality repairs and servicing.

Having a power tool go down can feel like hitting a brick wall, so we appreciate how important it is to get yours fixed fast!




The Evolution repairs & servicing centre located in Sheffield, South Yorkshire, is home to some of UK's highly experienced and fully qualified technicians, repairing and servicing Evolution power tools safely and reliably.




Evolution power tools are manufactured to the highest quality standards and are passed through a rigorous quality assurance process.

Evolution products come with an extensive warranty, however we recognise that sometimes problems can arise. In the unlikely event that you should experience a problem, during your warranty period, your product will be eligible to be returned to Evolution's dedicated repairs & servicing centre, where we will endeavour to repair and return the product.
Outside of your warranty period?

In the event your power tool goes down after your warranty period has ended, Evolution will quote for any product repairs / servicing that may be required.

Contact Us.

Contact Evolution's Customer Service team should you wish to discuss any requirements you may have for repairs, servicing or spare parts of Evolution products. Our team can also offer any assistance or advice about using your Evolution product.

Need repairs to your Evolution power tool?

Speak to one of our representatives to arrange collection. Call: +44 (0)114 251 1022
Please note: All fuel must be drained from petrol powered tools before returning them to us.

You can also email our customer service team. > Go to our contact form.

If a repair is likely to take longer than our normal 'turnaround' time, we will keep you fully informed about the repair process.