What are the main differences between RAGE and FURY Machines?
Evolution Build - Professional Range
RAGE machines are optimised for the professional / serious DIY user. They are well specified machines with a wide range of operational features and are designed and engineered for sustained and regular use. RAGE blades are optimised for higher performance, last-longer and have more teeth for a cleaner cut. They also are capable of cutting more Steel before a replacement is required.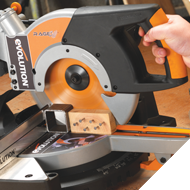 FURY machines are optimised for the DIY market where moderate / irregular use is expected. These machines offer the DIYer many of the facilities found on more expensive machines at a very competitive price. Evolution Project offers an innovative multipurpose TCT saw range which cuts Steel, Aluminium & Wood, all with a single blade! Including circular saws, cut off saws, mitre saws, table saws and a variety of other power tools, perfect for the home workshop.