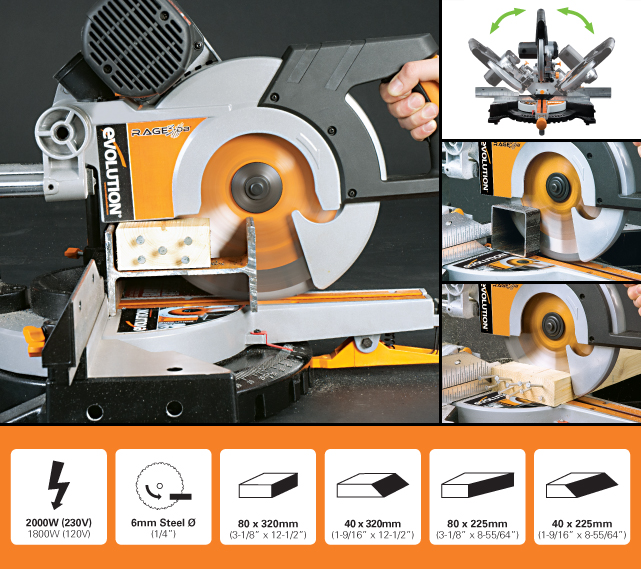 RAGE3-DB: 10"
TCT Multipurpose
Double Bevel Sliding Miter Saw
Cuts Steel, Aluminum & Wood
With One Saw & One Blade!
Utilizing patented professional RAGE® technology; easily cuts Steel, Aluminum, Wood (even wood with nails) and Plastic, using just one blade! Features a hi-torque gearbox, which reduces motor stresses, improving performance and durability.
Advanced performance; out performs normal saws. When cutting Steel, it leaves an instantly workable finish, producing no heat, no burr and virtually no sparks - unlike alternative methods.
Double bevel facility reduces need to re-adjust workpiece. Laser guidance for optimum accuracy. Other features include a robust outer casing which enhances durability on even the most demanding metallic applications.
Large 12" slide mechanism, for long angled cuts, offers a solution to almost all common applications. See the Evolution Mitre Saw Cutting Guide. Also features an ultra-secure top clamp.
Don't forget: Evolution's 10" Diamond Blade which transforms this Miter Saw into a sliding tile cutter; ideal for roof tiles! Other accessories available separately include the Evolution Miter Saw Stand, Side Extension, Repeat Stop & Dust Bag.
Why would you buy a saw that only cuts wood?
When you can buy a RAGE3-DB® multipurpose saw!
Watch a video on how to safely cut steel with this saw here.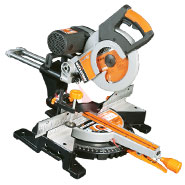 *Picture shown is for marketing purposes only. Do not cut more than one material at a time.