EVOMAG28
28mm Industrial Magnetic Drill
Ideal For: Bridges, I-Beams & Framework
Includes Carry Case
The EVOMAG28 magnetic drill is deceptive in its capabilities; although small in size it is highly productive in heavy-duty industrial and fabrication work.
Easy to carry and position in both awkward and confined spaces, due to its compact dimensions. The spoke handles can also be mounted on the right or left side of the machine.
Cuts are precise and clean due to an optimised rotation speed of 570rpm and covers cutting capacities between 12mm - 28mm up to 50mm deep.
Offering an impressive 13mm (1/2") twist drill capacity, with chuck and key supplied.
RRP
£351.99
Inc VAT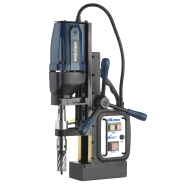 Product Code:


110v: 090-0002
230v: 090-0001
*Pictured without guard for illustration purposes.
Can only to be used on non-coated Mild Steel. Ensure surface is free of paint and loose rust before attempting to drill. 10mm Minimum surface thickness for magnetic adhesion.