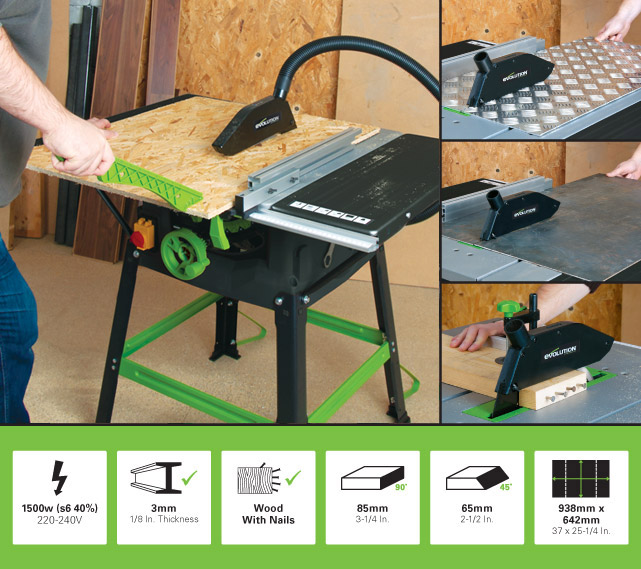 FURY5-S 255mm
TCT Multipurpose Table Saw
Cuts Steel, Aluminium & Wood
With One Saw & One Blade!
MULTIPURPOSE CUTTING
Utilising patented professional RAGE® technology;
easily cuts steel, aluminium, wood (even wood with
nails) and plastic, using just one blade!
VIRTUALLY NO SPARKS
When cutting steel, it leaves an instantly workable
finish, producing no heat, no burr and virtually no sparks
- unlike alternative methods.
ADJUSTABLE SETTINGS
The multipurpose blade can be tilted left for bevel cutting
up to 45°. Plus the height of the blade is easily adjusted to
achieve a cutting depth of up to 85mm through wood.
ASSISTED ACCURACY
Featuring a quick clamp, parallel rip fence with
measuring rail guide for accurate and assisted rip cutting.
A push stick is also provided for safer operation when
cutting smaller off cuts.
MITRE ANGLE CUTTING
0° - 60° mitre gauge with anti-vibration clamp device
which safely and securely minimises movement in
material when cutting at a desired angle.
DUST EXTRACTION
Before cutting wood a vacuum hose (not included) can be
connected to the dust extraction port; reducing sawdust
build up around the blade area. Providing a safer, cleaner
working environment.
Why would you buy a saw that only cuts wood?
When you can buy a FURY5-S® Multipurpose Saw.

Please Note: The instruction / assembly operator's manual states 32 Hex Headed Screws and 36 Washers are supplied with the saw. Some of these may already be fitted to the machine and may not be in the bag of supplied hardware.
RRP
Discontinued
Inc VAT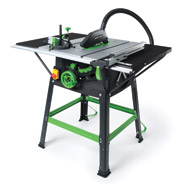 Product Code:


230v: 056-0001
*Picture shown is for marketing purposes only. Do not cut more than one material at a time.