RAGETWIN 155mm
Multipurpose Twin Blade Saw
Cuts Steel, Aluminium & Wood
Twin Blade System Eliminates Kick-Back
Utilising an innovative double blade system, the compact RAGETWIN155® 155mm will cut just about anything; Steel, Aluminium, Wood (even wood with nails) and Plastic!
Advanced performance; out performs normal cutting saws. When cutting Steel, it leaves an instantly workable finish, producing no heat, no burr and virtually no sparks - unlike alternative methods.
Perfect for plunge cuts & work in tight, hard-to-reach areas; ideal for use on laminate flooring. Supplied with 2 x 155mm TCT Multipurpose Blades, Side Handle, Wrench & Manual.
Other features include an auxiliary side handle, making it easy to direct into position and the RAGETWIN155® 155mm is ergonomically shaped for optimum handling comfort during operation.
Why would you buy a saw that only cuts wood?
When you can buy a RAGETWIN155® multipurpose saw!
RRP
Discontinued
Inc VAT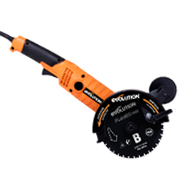 *Picture shown is for marketing purposes only. Do not cut more than one material at a time.