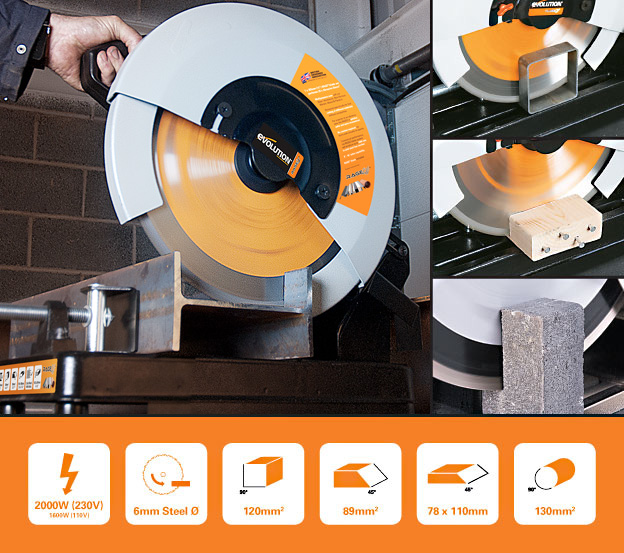 RAGE2 355mm
TCT Multipurpose Cut Off Saw
Cuts Steel, Aluminium & Wood
With One Saw & One Blade!
MULTIPURPOSE CUTTING
Utilising patented professional RAGE® technology; easily cuts Steel, Aluminium, Wood (even wood with nails) and Plastic, using just one blade.
VIRTUALLY NO SPARKS
When cutting Steel, it leaves an instantly workable finish, producing no heat, no burr and virtually no sparks - unlike alternative methods.
0-45° SECURE CLAMP
Fast action swivel clamp enables cuts to be made from 0-45°. Other features include a hi-torque gearbox which reduces motor stresses, improving performance and durability.
OPTIONAL DIAMOND BLADE
Don't Forget: Evolution's accessories include the 355mm (14") Diamond Blade available for cutting Stone, Concrete and Brick.
Why choose the RAGE2® over an abrasive disc machine?
• Blade does not wear down and lose depth of cut, unlike abrasives
• Quicker, safer & more economical than abrasive saws
• Cuts 4 times faster than an abrasive saw
• Clean cuts, no dust, no fumes, no smoke and no sparks
• Cost effective
Why would you buy a saw that only cuts wood?
When you can buy a RAGE2 multipurpose saw!
Watch a video on how to safely cut steel with this saw here.
RRP
£219.99
Inc VAT
Product Code:


110v: 085-0002
230v: 085-0001
*Picture shown is for marketing purposes only. Do not cut more than one material at a time.