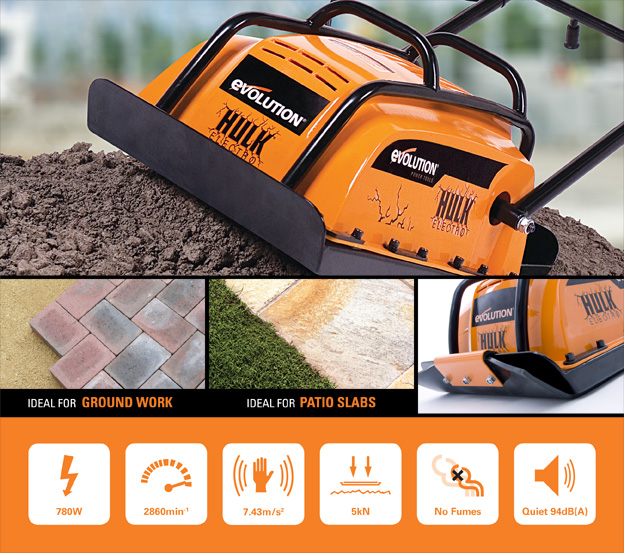 HULK ELECTRO
400mm x 320mm Electric Compactor
Ideal For: Crusher Run, Sand, Soil & Block Paving Preparation.
The HULK ELECTRO is ideal for the construction and landscaping industries and offers a very realistic alternative to hiring, due to its incredible value! Ideal for surface preparation when evenly compacted ground is required and suitable for sub-base preparation, sand, gravel, crusher run, soil, small aggregates, patios, block paving, driveways, pathways and tarmac repairs.
Powered by a 780W electric induction motor means no harmful fumes are emitted - making it ideal for use in enclosed spaces. It is a highly reliable, portable, quiet and low maintenance power unit with a vibration damper system for increased user comfort. Together this makes the HULK ELECTRO easy to use - just plug-in and let it go to work!
The HULK ELECTRO has added roll-bars which offer increased strength and protection during transportation. It takes up little space, whilst offering great performance and the easy-fold hinged handle, improves storage. Furthermore, the compact design makes it easy to manoeuvre in restricted spaces.
The thick, durable base plate delivers high centrifugal force for powerful performance with 5m/min travel speed and can be used on block paving with the optional paving pad. The HULK ELECTRO is also low frequency and high amplitude for better soil compaction.
Don't forget: the paving pad accessory, ideal for finishing a block paving or patio job. With this pad fitted to the underside of the machine, the HULK ELECTRO can be used directly onto the flag stones or paving blocks for a perfectly even finish.
Superb value and a realistic alternative to hiring.
RRP
£209.99
Inc VAT